Dimensional Products, Inc. (DBE) – Crash Barrier Accessories Supply
Primeline Utility Services Holdings (non-DBE) – Utilities (U303 Overhead Pepco)
Traffic Engineering Services (DBE) – Maintenance of Traffic
CONTRACTOR SPOTLIGHT
We recently spoke with Joseph Williams, Sr., Founder and Owner of DBE certified firm District Safety Products, Inc., about his company's history and their work with Purple Line Transit Constructors (PLTC). Thank you for the insights!
How did District Safety Products, Inc. get started?
After doing research, I noticed a niche in the safety industry. I took out a personal loan for $10,000 and began with no office or employees. Initially I worked alone and my wife helped me do the books after hours. After the first year, she joined the company and I also hired a customer service person.
When and how did you hear about DBE certification?
When doing business, customers would always ask if our company was DBE certified, which prompted us to look further into the process and eventually becoming certified [in 1999].
How has DBE certification helped your business to grow?
It has given us more exposure. We have received opportunities from companies that would normally give their business to larger distributors.
How many people do you currently employ?
Eight people.
When and how did you hear about the Purple Line Transit Project?
Through different outreach events we attended for small businesses.
How did you initially get connected with PLTC on the Project?
We received an email, giving us the opportunity to quote on the safety items they were going to use during the Project.
What is your current role on the Project?
We supply the personal protection equipment to keep the workers safe.
What suggestions or advice would you give to an up-and-coming small business in the construction industry?
I would suggest to become DBE certified. Also, find a way to differentiate yourself from the competition, whether it is through your service, your products or your approach, stand out in ways that would entice your customers to want to work with you.
Anything else you'd like us to know?
Our company motto is "A more excellent way", which simply means we work hard every day to learn from mistakes and be better that day than we were the day before.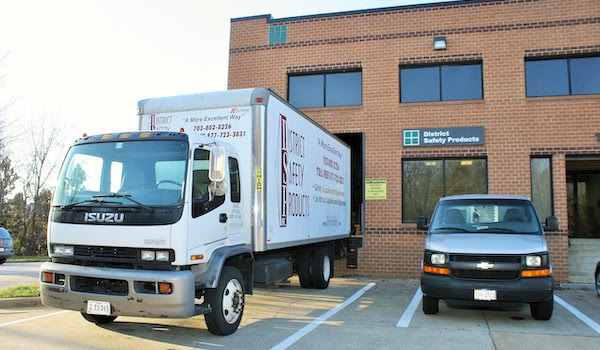 The District Safety Products, Inc. truck parked at the company headquarters.
DBE DID YOU KNOW?
CLAIMING DBE CREDIT:
SUPPLIERS, BROKERS & MANUFACTURERS
This month, we present an important distinction between DBE firms that provide supplies and materials to projects with DBE goals. This distinction is critical to understanding how much DBE credit can be counted for DBE manufacturers, brokers and suppliers.
A supplier owns, operates and maintains a store or warehouse. They may supply material, tools or equipment. Stock must be maintained, sold or leased to the public on a regular basis during the course of business. Items purchased through a DBE supplier receive 60% DBE credit. For instance, if $100 were spent with a DBE supplier, only $60 of that purchase could be claimed as DBE credit.
A broker is an independent party who arranges, for a fee, any of the logistics in supplying material/supplies from a manufacturer/supplier to a contractor. If a DBE firm is a broker, only their "broker fee" may be counted for DBE credit. The amount of DBE credit available will depend on the percentage-based fee the broker assesses. For example, if a DBE broker's "fee" is 5% of $100 spent, then $5 is counted towards the DBE goal.
A manufacturer operates and maintains a factory or an establishment that produces material, tools or equipment on the premise. Supplies purchased directly from a DBE manufacturer receive 100% DBE credit. This means that every dollar spent with the DBE manufacturer is counted towards a project's DBE goal.
PLTC and their subcontractors are currently using all three categories of DBEs listed above to reach the DBE goals on the Purple Line Transit Project.
HOW TO GET INVOLVED
PLTC sends Notices of Interest (NOIs) to ALL Maryland Department of Transportation (MDOT) DBE Certified firms for each contract opportunity available on the Project.
Please visit our website at www.purplelinetransitpartners.com to learn more about our procurement process.
UP NEXT
UPCOMING EVENTS
July 18th: Md. Washington Minority Companies Association (MWMCA) – Minority Outreach Fair
8:00 AM – 12:00 PM at Live! Casino & Hotel
RSVP: https://mwmca.org/events/viewEvent/815
October 16th: Meet the Primes – Outreach Fair
SAVE THE DATE – More information coming soon
UPCOMING PROCUREMENTS
At-Grade Stations
Bus Shelters
If you would like more information about the procurements listed above, please contact dbeprogram@pltcllc.com, and make sure that your firm is registered as a Project vendor by clicking here.